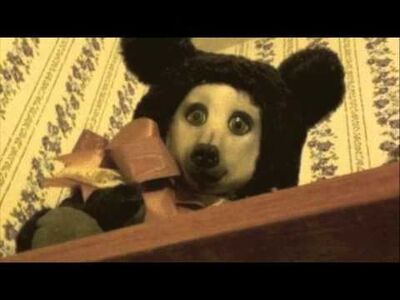 TEDDY part.1
When i was five my mom bought a teddy bear it gave me chills down my spine when i looked at it. It just looked so real with those blank eyes staring down into your soul.I remember that day when my sister didn't want the bear anymore so my mom put it in this glass contaiment but the glass contaiment was in my room. That horrible night i had a nightmare so i decided to get a cup of water. When I was on the stairs just about to get a glass of water there was a noise of someone running i checked it out and there was nothing.so i dicided to go to my room and when i opened the door I was suprised because the bear was standing up on my bed. He tilted his head and lunged at me. I fell and hit my head on the floor, then I grabed that horrible bear and burned it never to see it again.
Ad blocker interference detected!
Wikia is a free-to-use site that makes money from advertising. We have a modified experience for viewers using ad blockers

Wikia is not accessible if you've made further modifications. Remove the custom ad blocker rule(s) and the page will load as expected.